Culture Week at The Downs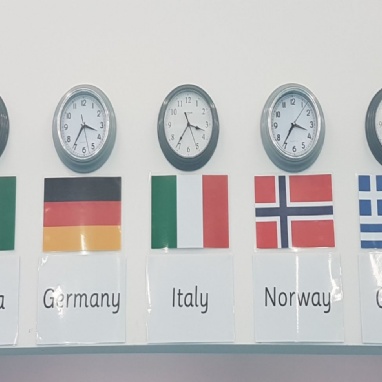 All the children at The Downs spent the week last week celebrating different cultures around the world. Please ask your children about what they learned. Attached below is a sheet of some facts about the different culture to help you think of some good questions.
Reception - For culture week in reception we have looked at China. We have talked about where China is, and located it on the World map. We have discussed its large population and some traditions e.g. their main staple food is rice, and talked about Chinese New Year. In PE we have made up our own dragon dances and movements to the 12 Chinese New Year Animals. We have also tasted Chinese foods and involved ourselves in various classroom activities including making lanterns, willow plate pattern making, designing and writing about our own dragons and writing our names and numbers using Chinese symbols. We have also enjoyed role playing in a Chinese restaurant, attempting to use chop sticks to pick up string (pretend noodles), and writing customer orders using our phonics sounds!
Year 1 – Year 1 have been learning about Scotland. We looked at where Scotland is on the map and famous places you can visit. We created a poster about Scotland and designed tartan skirts. We tried some Scottish porridge and Highland biscuits and learned some Highlands dance moves.
Year 2 – Sycamore and Maple classes have been exploring Nigeria. We have located Nigeria on the map and found out what each colour represents on the Nigerian flag. We have decided to commit to one 'small act of kindness' each day based on the celebrations at the Calabar Carnival. We have also looked at the artist Jimoh Buraimoh and created our own Nigerian artwork titled 'Meeting of the Children.' We have had lots of fun!
Year 3- For Culture week, Aspen and Cedar classes have been researching facts about Italy. Do you know the name of the longest river in Italy?
Year 4 - Chestnut and Rowan classes have researched facts about Norway. We have also recreated The Scream by Norwegian artist Edvard Munch.
Year 5 - In Year 5 we have been exploring Greece. We have learnt a variety of Greek myths and discovered the creatures and characters they contain. We have also looked at the Ancient Greeks use of pottery and the type of art which was used to decorate the pottery. Following this, we have created our own Greek pots out of clay on which we will paint pictures from Greek Mythology.
Year 6 – Oak and Hazel classes have been looking at Germany. We have learned about the geography of Germany and its landmarks, and learned a little German, including numbers and common greetings. We studied the artwork of some German artists, and created watercolours in the style of Otto Dix. We created different styles of leaflets that included information about all aspects of Germany, including its culture, food, art, and places to visit. We also baked traditional German soft pretzels, called Laugenbrezel, which were very popular!