#PowerinMe - Tuesday 2nd June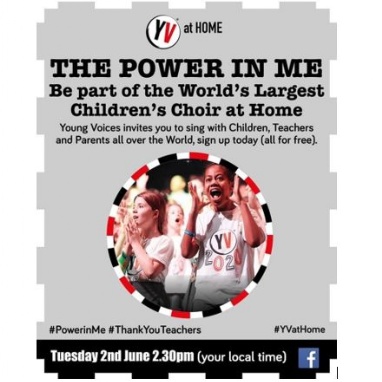 Be part of the world's largest children's choir at home!
Over 12,000 people have signed up to sing in #PowerinMe on 2nd June.
Even more exciting is all the countries they come from: U.K., USA, Canada, Spain, France, Germany, Ireland, Luxembourg, Zambia, Uganda, Namibia, Dubai, Pakistan, Australia, New Zealand, Trinidad and Tobago, The Dominican Republic, South Africa, Indonesia, South Korea, China, Hong Kong & Tuvalu!
Join the Largest Children's Choir In the World at Home here: www.youngvoices.co.uk/powerinme