Giants, Vikings and a special goodbye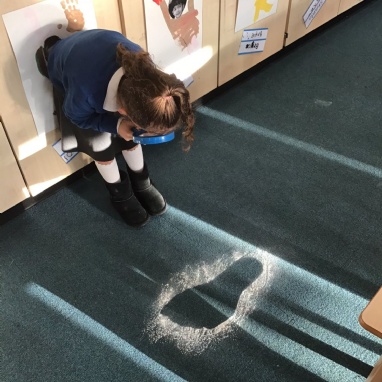 Children in our Reception classes were excited to welcome a giant visitor to their classrooms recently. After hearing the fairy tale, Jack and the Beanstalk, when the pupils arrived at school the next day, it seemed the giant had visited their classrooms in the night!
The children spotted the giant's footprints, recognising these were much too big to be their own. They measured them using different objects, and developed their vocabulary relating to size as they described what they had found. There was much enjoyment as the pupils set about making their own giant beanstalk whilst discussing the castle at the top. Their knowledge and understanding of the world widened as they learnt about money by pretending to pay for a cow, and then planting their own beans and learning what the beans would need to make them grow.
Meanwhile, our Year 4 pupils have been learning about the Vikings and the impact they had on our culture and language. As part of their learning, the children discovered which foods Vikings ate and used this knowledge to create a stew using authentic Viking ingredients. The children did all the preparation themselves, peeling and chopping the vegetables, and tasting the stew to check it was just right. Afterwards, the pupils evaluated their work and explained what they would do differently if they were to make it again.
As another busy term draws to a close, we are preparing to say thank you and bid a fond farewell to popular teacher, Ms Washington, who has taught at The Downs Primary for 28 years. Ms Washington will be missed by both children and staff and they will be wishing her all the very best for the future in a special goodbye at the end of term.