Supporting Young Carers' Action Day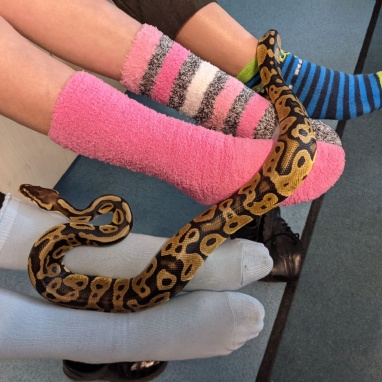 Our children and staff kicked off their shoes and showed off their funky socks in support of Young Carers' Action Day.
The initiative to support young carers and raise awareness is a national event which this year was held on 16th March, and is just one of the great causes we are committed to supporting. The aim is to highlight the incredible skills young carers develop, such as resilience, time-management and empathy.
We ensure that our young carers meet together on a regular basis to have some time to catch up and chat whilst taking part in a variety of fun activities. And what better time for the children to meet with our SENCO, Mrs Samson and Safeguarding Lead, Mrs Stammers for their half termly craft and chat session than on a day dedicated to young carers? The children expressed their creativity by decorating their own socks and enjoyed having a chance to spend time together and catch up on the latest goings on.
The cheery sight of our children walking into school in a variety of colourful socks was especially welcome on such a grey and drizzly day. The pupils delighted in running around in striped, spotted and even odd socks. Year 6 teacher Mr Cladingboel's pet python, Pandora even joined in the fun!
You can see more photos of the day by checking out our Twitter account, @TheDownsPrimary